Join our Fantasy Premier League Mini League
As the new football season kicks off, so does a new instalment the Premier League's Fantasy Premier League.  
This season we are offering the opportunity to join in the fun and be part of our Fantasy Premier League mini league.  
Fantasy Premier League allows you to pick your own squad of real life players, who achieve points for your team based on their performances. Read more about points and the game dynamics here.  
Teams can be entered at any stage of the season, however if you want to start from game week one, we need to register you before Tuesday 8th August.  
To enter our mini league a suggested one-time minimum donation of £11, which can be sent via our website, should be made. Our Community Team will then contact all FPL Managers (that's you) with a code to join the mini league. This donation will support our Mental Health Ambassadors in Sports Clubs Project across Hampshire. Through this Project we train, inform and support local sports clubs and their members; creating a safe and positive environment for mental health conversations and signposting.  
You will also be sent a copy of our Supporter's eNewsletter each month, which you can unsubscribe from at any time.  
Will your team be celebrating in May 2024?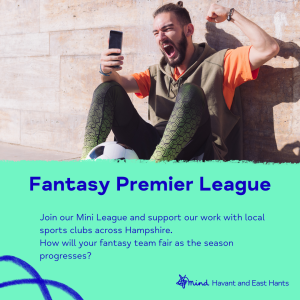 Posted on: 26th July 2023