Connect 5
Connect 5 is an evidence-based course ideal for businesses, local authorities, charitable organisations and community groups as well as individuals working in key settings. The Connect 5 course helps to build the capacity and capability of people to have more proactive and supportive conversations about mental health, wellbeing and suicide.
FULLY FUNDED SPACES AVAILABLE – Havant and East Hants Mind can offer fully-funded places for anyone living, working or volunteering in the public or voluntary sectors, within Portsmouth and Southampton. There is a possibility that we can also offer subsidised course places, even if you do not fit within the prerequisites above. Please email [email protected] for more information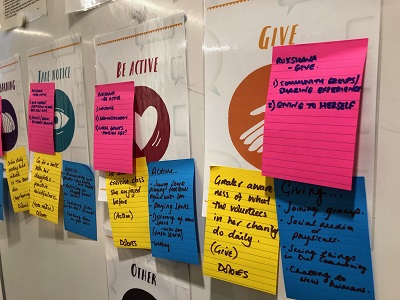 Upcoming Dates
Please see the BOOK/ENQUIRE HERE link where all future dates are located.
Course Duration/Timings
Connect 5 Sessions are run over 3 separate sessions, normally run over 3 weeks (3 hour sessions, the full course being 9 hours in duration)
Course Objectives/Contents
SESSION 1 – Develop your core understanding of mental health, mental wellbeing and how to signpost to local services and resources that enable people to help themselves.
SESSION 2 – Build your skills and confidence to work with and improve the mental health and wellbeing of others. Including, how to support greater insight into experiences of stress and distress and how to help people take first steps to make themselves feel better
SESSION 3 -Advance your skills to work collaboratively with clients to create an action plan and integrate brief interventions to motivate and support people to make changes that last.
Takeaways
A certificate of attendance
Course manuals for each session and final recap sheet.
Course Format
This is delivered as an open courses (see dates above) – we will either run these as face to face or online. Please see eligibility regarding who can enrol
We can offer this as an inhouse course – where a workplace/organisation can book a full course for a team/staff at certain location, with a date of your choice. We can offer face to face or we can deliver this online.
Eligibility/Numbers
Suitable for anyone 16 years old +
Up to 16 delegates per course (We limit numbers to 16 people per course so that the instructor can keep people safe and supported while they learn)
Fully-funded places are available for anyone living, working or volunteering in the public or voluntary sectors, within Portsmouth and Southampton.
Accessibility
We strive to create courses and resources that everyone can access. When you book, we will ask if you will need course materials in accessible formats. We will also ask you about any accessibility requirements you may have regarding online or face to face training and safely accessing the chosen venue.
Prices
For more information on prices please click the 'book/enquire here' link where you will automatically be emailed our brochure with charges.
Feel free to also email us to get exact quotations, as we can in some cases offer discounted rates for charities/voluntary sector workplaces.
Cancellation Process
If you are unable to attend, and not in a position to substitute your place to another person, refunds will not be provided, however you can book onto an alternative open course date.
Refunds will be provided if HEH Mind have to cancel the course.
Contact Us
Please use the 'book/enquire' link above and we will be in touch.
Or call or email us directly:
Anna – 07813350246
Andy – 07775169098