HEH Mind becomes Official Grassroots Football Awards Sponsor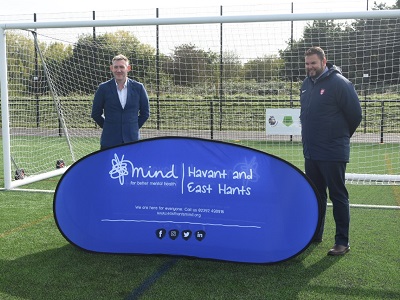 Havant & East Hants Mind have extended their partnership as sponsors of the Hampshire FA Grassroots Football Awards.
The relationship between the county FA and the local Mind charity continues to go from strength to strength since the partnership became official at the start of the pandemic. Hampshire FA's collaboration with HEH Mind, led to several initiatives and activities for 'Time to Talk Day', Mental Health Q&A Twitter sessions, mental health tournaments, and much more.
Additionally, the county FA extended its support to Active Families, by offering the use of the 3G football pitch and Front Lawn Community Hub for their own activities. Hampshire FA also turned one of its offices at the community hub into a food hub, allowing the families to access food and household essentials as and when required.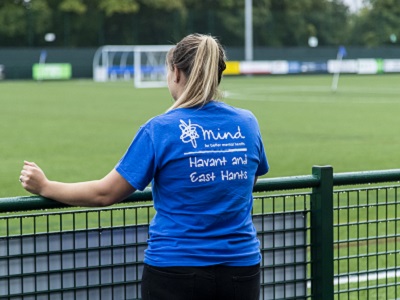 The work conducted with HEH Mind over the past few years has led to the county FA winning a Bronze award for 'Best Corporate Social Responsibility Scheme or Initiative' at the Football Business Awards, making it the first county FA to have ever received an award at the national awards ceremony.
Recognising the flourishing relationship between our charity and the county FA has now led to HEH Mind becoming the official sponsor of the Hampshire FA Grassroots Football Awards. 
The annual awards ceremony is a prestigious event where Hampshire FA recognises and celebrates players, referees, coaches, and their volunteers. It will take place on Saturday 15th July 2023 at the Hilton at the Ageas Bowl and will offer HEH Mind the stage as sponsors to promote and highlight our work, share key messages, and use the opportunity to promote our many available services to the local community. The suite will display Havant & East Hants Mind's promotional material and banner advertisements as well as donation boxes to support the charity's fundraising efforts for ongoing work.
"We are thrilled to see the continuous, strengthening ties of our two organisations. When looking back on these past few years, we can both be assured of the work and commitment that has gone into this partnership that has allowed it to flourish, and the award gained that now serves as a permanent reminder to us all, of just how much work has gone on behind-the-scenes. The next step is to try and increase that level of exposure and awareness of the charity by making them the headline sponsors of our prestigious awards ceremony and offer them the stage to speak directly to up to 300 individuals on the evening" Neil Cassar, Hampshire FA CEO.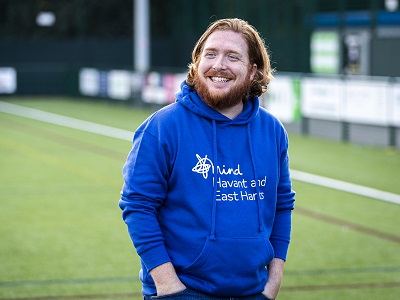 "We are delighted to be extending our partnership with Hampshire FA. The Hampshire FA Grassroots Football Awards will give us a stage and the spotlight, to shine the light on mental health, our charity and everything we are doing to help and reach out to as many people as we can with our range of services and support. We also hope to use the opportunity to engage more sports clubs to raise awareness of mental health and available support as well as our own services. In recent years we have expanded the range of services we offer and now provide support right across Hampshire and in many areas. 
We will also use the opportunity to highlight the importance of looking after one's own mental health and to combat the stigma that still exists surrounding mental ill health. Havant and East Hants Mind is also linked to national initiatives- working as charity partner at Portsmouth FC and national Mind over several seasons, as part of the well-publicised EFL On Your Side project. We look forward to Hampshire FA's Grassroots Football Awards ceremony next year, where we can speak openly and directly to hundreds of individuals, of all ages and demographics. It is a fantastic opportunity overall to share our key messages with everyone as everyone has mental health" Ross Borman, Business Development Manager of Havant and East Hants Mind.
Posted on: 18th October 2022