Connect 5 (Portsmouth and Southampton)
Portsmouth and Southampton Connect 5 Mental Health & Wellbeing Training programme
An evidence based course "Connect 5" is perfect for businesses, local authorities, organisations like charities, community groups as well as individuals working in key settings within Portsmouth and Southampton. The Connect 5 course builds the capacity and capability of people to have more proactive and supportive conversations about mental health, wellbeing and suicide.
Training is 100% subsidised thanks to funding from Portsmouth and Southampton Councils. This funding expires at the end of March 2024, so please book your place now. Evidence shows the impact the training is having across the county, leading to
better support for customers or clients,
better support for colleagues and promoting workplace wellbeing
better support family and friends particularly during the pandemic where more people have struggled than ever before.
The Connect 5 Course is delivered interactively by HEH experienced trainers on-line over 3 x 3hr sessions. Trainers currently have a 97% satisfaction rating.
There are a range of Connect 5 course dates available, to book or find out possible dates check out the "Upcoming Courses" section below and follow the Eventbrite link. We can also accommodate specific dates for closed groups where groups have enough delegates to fill a course.
More about Connect 5
Objectives of Connect 5 derive from national policy on mental health and behavioural research. Using the framework of the Five Ways to Wellbeing and principles of cognitive behavioural theory, it aims to empower people to have conversations about mental wellbeing. These conversations are intended to contribute towards promoting mental wellbeing, preventing mental health deterioration and when necessary, identifying and taking appropriate action to address mental distress. 
What will I learn?
Topics include
Understanding the language around mental health, wellbeing and mental illness.
Learn about local services and self-help resources available.
Become more confident in offering wellbeing advice and support in everyday conversations
Develop skills and confidence working with individuals who are having troubling or difficult feelings.
Learn how to apply the five areas model in conversations with others.
Develop skills to work with individuals to improve their own wellbeing.
Learn how to use evidence-based interventions.
Understand how to help individuals make lasting changes that have a positive effect on wellbeing
How will I learn?
Each session is practical and interactive, using a variety of PowerPoint presentations, group discussions, small group work, and practical exercises in groups. Our instructors provide a safe learning environment and are trained to support you throughout the whole course.
Due to some of the sensitive subjects mentioned on the course, we limit numbers to a maximum of 16 people online.
If you don't feel comfortable joining in certain parts, then there is no pressure to. We want everyone to feel safe and our instructors can help if people find some parts particularly difficult.
Course Costs
This course is currently fully subsidised by Portsmouth and Southampton Councils' Public Health Team and is therefore free to all organisations until March 2024.
Upcoming Courses
Course dates are currently being set up for Portsmouth and Southampton. You can now book directly via our Eventbrite form.
More dates are added to the Eventbrite schedule periodically so please check back if you don't see convenient dates. Or contact us on the email below.
If you'd like to know more about Connect 5 or to book a closed course for a group of people from your organisation then contact us on [email protected] 
Further info about Connect 5
Testimonials and organisations that have already received Connect 5
"Every line Manager should go on this course" – Course Attendee – Havant Borough Council
"This has been a fantastic course. It has boosted my understanding of wellbeing and mental health, I feel confident to start using the tools given. Great course and thought the trainer was brilliant".
"The trainer was clear and concise helping us think through the issues involving mental health and the tools and resources available to us to help our clients who struggle in this area".
"Despite experiencing Zoom fatigue in general in the past year, the course was engaging and interesting, with a good mixture of learning and reflective discussion. 9 hours on Zoom sounds like a lot, but the time was well spent. I would fully recommend the Connect 5 training to any professional or volunteer group to inform their thinking around mental health and how we can tackle this growing issue in our communities".
"The trainer was excellent – responsive, sensitive, balanced and good humoured".
"Really excellent course – best I have attended in a long time. Great mix of content and interaction".  
"A great course.  Learnt some very useful techniques for use in personal life and when helping colleagues and friends".
"The trainer provided relatable ways and anecdotes to talk about mental health openly. The training was very thorough, and I feel immensely more prepared to have difficult conversations".
Just some of the organisations who have accessed Connect 5 in Hampshire include;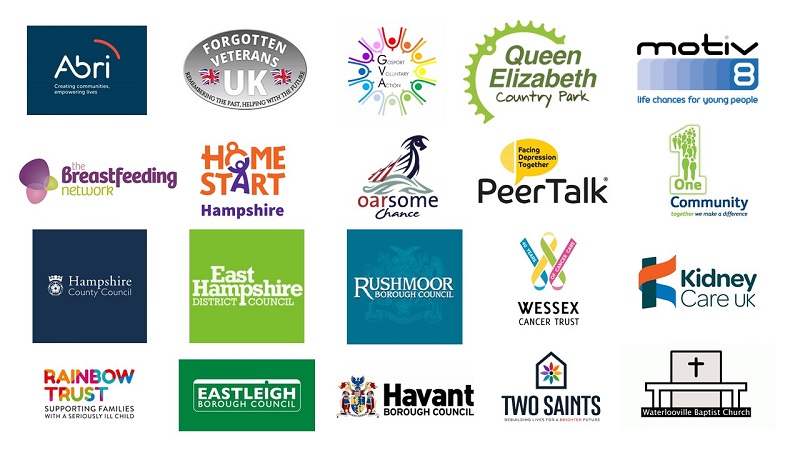 | | | | |
| --- | --- | --- | --- |
| Abri (Formerly Radian Housing association) | Alton Gymnastics Club | Andover Mind 3 | Breast Feeding Network |
| British Red Cross | Community First | Community First CVS  | East Hants Primary Care Network |
| Eastleigh Borough Council | Forgotten Veterans | Gosport Voluntary Action | Hampshire Libraries |
| Havant & East Hants Mind | Havant Borough Council | Havant Men's Shed | HCC Children's Services |
| HCC Countryside | Home Group | Home Start | Horizon Leisure |
| Kidney Care UK | Motiv8 | Oarsome Chance | One Community |
| Ovarian Cancer Research Alliance | Peer Talk | Project Steadfast | Queen Elizabeth Country Park |
| Radian | Rainbow Trust | Rosemary Foundation | Rushmoor Borough Council |
| Rushmoor Voluntary Services | Solent Mind | St John's Winchester Almshouses | St Marks Church Bordon |
| The Ark Eastleigh | Two Saints | University of Winchester | Waterlooville Baptist Church |
| Wessex Cancer Trust | Winchester Borough Council |   |   |