Waterlooville Golf Club announce HEH Mind charity of the year partnership
On 11th March Waterlooville Golf Club announced their charity of the year partnership with Havant and East Hants Mind with the intention of raising funds and awareness of the local services that HEH Mind provides.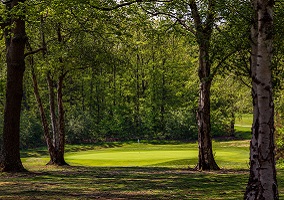 Waterlooville Golf Club, founded in 1907, is a private members golf club with an 18 hole course that was designed by the late Sir Henry Cotton. The Club is renowned for its friendly atmosphere and warm welcome all hosted in its facilities that include a function suite, meeting rooms and a restaurant. These facilities will provide a range of spaces for charity promotions and conversations during 2022 – 2023.
HEH Mind provides free access to wellbeing and crisis services, focusing on the Havant Borough, East Hampshire District and Hampshire wide communities. HEH Mind's services include an adults' wellbeing service, children and young people's Lighthouse (youth club wellbeing support) and family service together with the Safe Haven crisis services for adults and separate services for young people.
In addition to wellbeing and crisis services, HEH Mind delivers community projects, campaigns, fundraising support, workplace wellbeing and shares awareness and signposting material.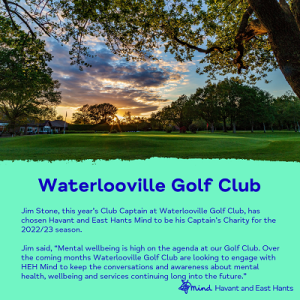 Jim Stone, this year's Club Captain at Waterlooville Golf Club, has chosen Havant and East Hants Mind to be his Captain's Charity for the 2022/23 season. Jim said, "Mental wellbeing is high on the agenda at our Golf Club. Over the coming months Waterlooville Golf Club are looking to engage with HEH Mind for fundraising and also their mental health sports ambassador programme to keep the conversations and awareness about mental health, wellbeing and services continuing long into the future."
Lorna, Community Fundraising and Sports Club Engagement Officer said "We are thrilled to be partnering with Waterlooville Golf Club and to be able to engage and support their members. Thank you to Jim, this year's Club Captain for choosing HEH Mind as his charity, and for supporting greater mental health awareness. Through our charity of the year partnership, we hope to raise awareness and confidence to access our local wellbeing and crisis services along with supporting the very kind fundraising that will be happening throughout 2022 and 2023."
Find out more about Waterlooville Golf Club – www.waterloovillegolfclub.com
Find out more about HEH Mind services and support – www.easthantsmind.org
Posted on: 13th May 2022