Virtual Crafternoon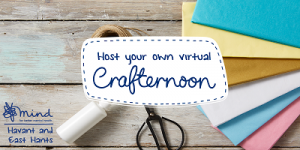 To look after our wellbeing, there are lots of activities we can do without going out that are fun and help us feel good – including crafting!
That's why we're inviting you to host a Virtual Crafternoon at home. All you need to do is download our step-by-step guide which will tell you everything you need to know. Click here to get the guide.
Get together online with your favourite people and spend an afternoon doing some crafting. Set up a fundraising page online and ask your guests to make a donation to HEH Mind to take part. Enjoy a get together with a difference and help make sure no one in our local communities has to face a mental health problem alone. 
If you have any questions, please send us an email at [email protected] 
Posted on: 31st July 2020