Tough Mudder Fundraiser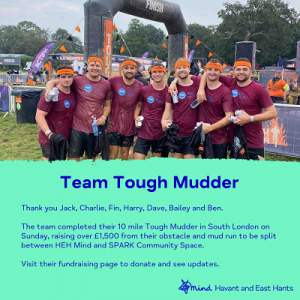 On Sunday 19th September 2021, seven friends took on and completed a 10-mile Tough Mudder course in South London. They did this to raise funds and awareness of HEH Mind and the SPARK Community Space in Southsea. 
Tough Mudder is a series of obstacle and mud runs that push participants physical and mental limits without the pressure of competition. It is a "community built on teamwork and overcoming obstacles, where stepping outside your comfort zone is the reward." – https://toughmudder.co.uk/
The team have so far raised £1,500, which will be split between HEH Mind and SPARK Community Space. Supporting and promoting local support and charities within our communities. You can still donate to their fundraising and see updates from the team on their fundraising page – Fundraiser by Jack Butcher : TOUGH MUDDER 2021 – MIND & SPARK (gofundme.com)
What an amazing effort – Thank you Jack, Charlie, Fin, Harry, Dave, Bailey & Ben.
Posted on: 19th October 2021

back to news