'The Harbour' set to open seven evenings a week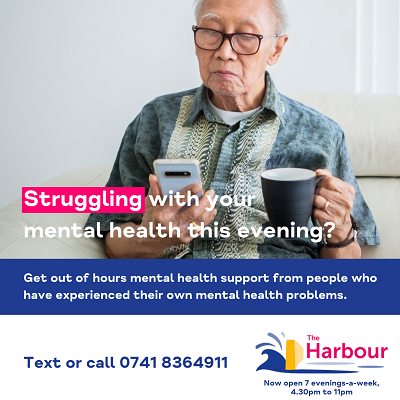 The new seven-evenings-a-week mental health service for local people
 The out-of-hours mental health service, 'The Harbour,' is now available seven-evenings-a-week, offering support to people struggling with their mental health. The service is run by staff who have experienced their own mental health issues and offers adults, living in Portsmouth, Fareham, Gosport, Havant and East Hampshire informal, non-judgemental access to the help they need. 
People can either call, text, video-call or web chat with The Harbour team, (07418 364911, from 4:30 – 11:00pm) and they will provide immediate support for people struggling with poor mental health. The team will also help with a person's ongoing recovery by introducing them to Wellbeing Centres or other local support services such as Positive Minds or Safe Havens (with next working-day calls offered to people who would benefit from them). 
The Harbour is a collaboration between Solent Mind, Havant and East Hants Mind, Southern Health, Solent NHS Trust and Health & Care Portsmouth. It was originally set up in the autumn to run at weekends only, as phase one of a new pilot project, but it is now launching its intended full 7-days-a-week evening service to ensure continuous out-of-hours support for those who need it. 
To reach out to The Harbour, simply text or call: 07418 364911 between 4.30pm and 11.00pm. 
Steve Johns, The Harbour Service Manager, explains: "The number of local people living with mental health issues is on the rise,* making The Harbour's move to seven-evenings-a-week (including Bank Holidays) more important than ever before. We are giving people access to the support they need, when they need it, to get them through their self-defined crisis. Real-time support – particularly in the evenings when we know people can feel even more lonely, isolated and vulnerable – is crucial. We would encourage anyone who is struggling with their mental health to reach out, because the team, with their lived experience, is brilliantly positioned to understand what support an individual might need." 
The Harbour is an important part of the work Southern Health and Solent NHS Trust are both doing to transform their mental health acute and crisis care. With the help of Health & Care Portsmouth, the NHS Trusts' collective goal is to provide places that are more appropriate for people to access when they are in crisis. This may help avoid admission to an acute mental health unit or attendance at A&E. Southern Health and Solent's local mental health teams will be working closely with the new service to ensure its success. 
Posted on: 17th January 2022