The Advocacy Quality Performance Mark
On 23rd October 2018 HEH Mind was awarded "The Advocacy Quality Performance Mark" (QPM). This is only awarded to organisations offering independent advocacy who can demonstrate that they provide excellent services in line with QPM standards and the advocacy charter.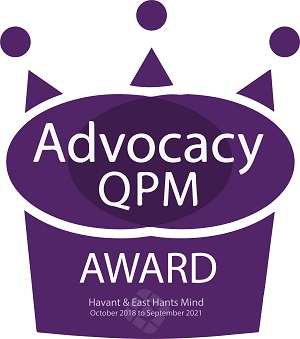 The QPM is a quality assurance assessment for providers of independent advocacy in England, Wales and Northern Ireland. It is based on the principles contained in the Advocacy Charter and the Advocacy Code of Practice, enabling providers to demonstrate how they are meeting the different standards.
Havant and East Hants Mind Advocacy Manager Lynne Corrieri explained "Obtaining the award was part of our ongoing commitment to provide the best possible advocacy services we can for people in Havant Borough and East Hampshire District within the framework of statutory advocacy funding.
The QPM award was recently updated to reflect changes in both practice and legislation. HEH Mind will hold the award until September 2021 when it will undergo the next reassessment as part of its commitment to the community it serves.
Posted on: 23rd October 2018