Team Falcons proud to champion Mental Health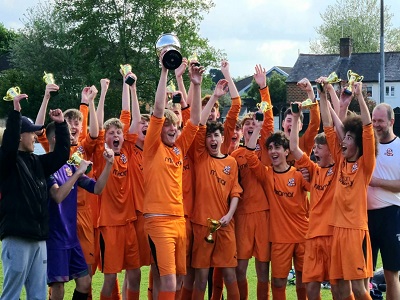 When the Hartley Wintney Junior U16s team, Falcons, were looking for a new shirt sponsor they decided to do things a little differently than to simply to ask a local business to open their cheque book; they want to give something back by raising their own funds for their new kit, whilst also donating to local mental health charity Havant and East Hampshire Mind (HEH Mind).  They will show support for the charity during their 2022/23 season by wearing the charity logo with pride.
This initiative is a first for the club, showing support for local mental health services and raising awareness throughout the season.  With HEH Mind and Hampshire FA already in partnership, the decision to support and harness this relationship within the Hartley Wintney Junior Football Club was a natural one.  Team members will also work with the charity and become Mental Health Ambassadors, supporting the HEH Mind Ambassador within the Sport project.
Recognising that the pandemic had a huge impact on many, Mental Health is important to the U16 Falcons, and they will champion it as a team, playing the sport that they love.  They have many activities planned to achieve their target. Team members are running Fun Runs (Hook and Yateley) as well as hosting exclusive mindful art workshops.  The target is to raise £1,900 with at least £1,000 donated to HEH Mind and the remainder covers the costs for the new season's kit.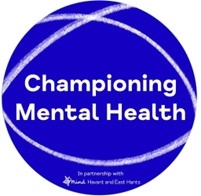 HEH Mind is a growing charity without huge resources or a large income.  It supports communities across the whole of Hampshire by delivering free training for sports clubs on how to access a variety of mental health services including wellbeing support, urgent crisis care, and helping to fight the discrimination that many are affected by.  Its aim is to help people live life to the full and this work would not be possible without donations. 
The Ambassadors' project focuses on using the passion and kindness that often already exists within local community sports clubs.  Lorna Howes, Sports Club Engagement and Community Fundraising Officer for Havant and East Hants Mind commented, 'We are delighted that the Hartley Wintney U16 Falcons have chosen to support our Ambassadors' project.  We look forward to an ongoing collaboration with Team Falcons and the Hartley Wintney Junior Football Club to champion mental health and raise awareness, whilst also helping to increase the team's knowledge and confidence to signpost local wellbeing services when needed.'   
 'The boys are ideal Ambassadors for mental health.  They had a really strong 2021/22 season which culminated in winning their first piece of silverware, and they have demonstrated determination and resilience both on and off the pitch, as well as respect for their team mates and opponents.  I'm super proud of their effort to champion mental health as a team and even more impressed that they have done this fundraising initiative off their own backs.'  Andrew Ewbank, U16 Falcons Team Manager.
More information:
HEH Mind website
Falcons fun run Just Giving page
Artful Minds 'Scribble art' workshop – biro scribble to create an elephant.
Mindful art workshop, 17 July, 2.30pm at Bramshill Scout Hut, Yateley – canvas paint to create a summer scene.
Posted on: 5th July 2022