Supporters' Conference 2020
On Thursday 19th November 2020, Havant and East Hants Mind hosted their first Supporters
Conference. The event was for people who support HEH Mind and who act as supporters within and
for their local community; be that a workplace (Mental Health First Aiders and Workplace
Champions), sports club (Ambassadors) or community setting (Champions and Mental Health First
Aiders).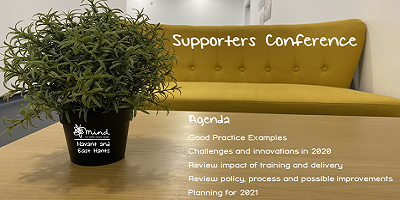 The event was held online and delivered via zoom with attendees hearing from guest speakers, engaging in group discussions, looking back at 2020 and forward to 2021. With a focus on informing and supporting them within their roles.
HEH Mind hosted an afternoon (1pm to 4pm) and evening (6pm to 9pm) session, providing an
opportunity for those (un)able to attend the online conference at certain times.
Conference sessions were led by Ross Borman (Business Development Manager), Mike Lock (Head of
Community Engagement and Comms), Alex Parish (Workplace Wellbeing Practitioner) and Robyn
Sargeant (Workplace Wellbeing Practitioner).
The guest speakers included: Mental Health First Aider Mandy, Connect 5'ers Sam and Rheyanne
and Sports Ambassadors Beth and Andrew. During the event attendees had opportunities to discuss
different aspects of being a supporter, including the responsibilities, challenges, successes and their
future plans/ opportunities.
The agenda for the day included:
Good Practice Examples
Challenges and innovations in 2020
Reviewing the impact of training and delivery
Review of policy, process and possible improvements
Planning for 2021
Feedback collected at the end of the event showed 92% of the attendees felt their expectations
were met and rated the event (an average score) as 4/5, with 100% saying they would attend again
next year.
The feedback highlighted positive aspects of the conference including:
"Connecting with some other people in similar roles"
"Hearing how to recruit, support and self care"
"The breakout rooms were very beneficial"
"Listening to everyone's ideas and personal feedback on what has worked well for them"
"The calendars were useful in particular"
"Listening to other stories"
"Sharing experiences"
"Cannot think of anything that wasn't useful!"
Mike Lock, part of the delivery team from HEH Mind said "The Supporters Conference has been very
successful, both for our attendees and for us as hosts. We could not have delivered this event without the support of Kenwood in Havant, who were our physical host venue. The Team at Kenwood have been amazing in creating a Covid safe space for us to deliver from and supported us with our online setup." Ross Borman added "It has been great to provide this collaborative opportunity for our supporters in their various roles. We are already looking forward to seeing/ supporting all the planned action for 2021."
Posted on: 13th October 2020