Stress Awareness Day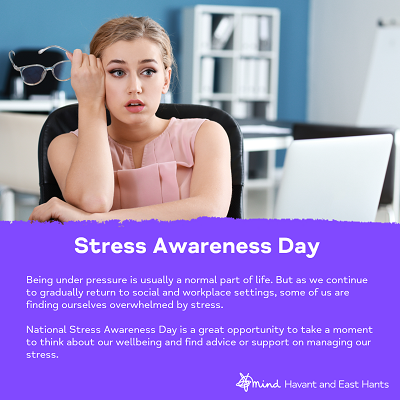 Being under pressure is usually a normal part of life. But as we continue to gradually return to social and workplace settings, some of us are finding ourselves overwhelmed by stress. This can lead to mental health problems or exacerbate existing problems, cause exhaustion, physical illness and impact on every aspect of your life.
National Stress Awareness Day is a great opportunity to take a moment to think about our wellbeing and find advice or support on managing our stress, particularly in the changing workplace environment.
Following our focus on home and social activities during World Wellbeing Week and Mental Health Awareness Day, we will focus a little more on the workplace environment today.
Here are a few ideas to help you think about what you can do to support your own wellbeing and that of your friends and colleagues.
– Working from home tips
The implications of this on our wellbeing are far reaching as our work/ life balance may continue to be harder to maintain. It is important to try to implement ways to separate the two areas of your life especially if over time you realise you have become less disciplined, for example not taking regular breaks, getting outside for fresh air, eating properly and finishing on time.
– Maintaining good communication with your colleagues
By now many of us are set up to work from home and communicate with colleagues on a daily basis through Zoom, Microsoft Teams, maybe even Skype. But many of us are still missing the face-to-face interaction and the moments of chat throughout the day, that were previously a regular part of our day. If you notice that one of your colleagues has become increasing withdrawn why not drop them a message and check how they are? Sometimes a quick hello can make all the difference. If you are feeling isolated and missing your colleagues why not suggest a shared lunch break or afternoon tea via zoom, or is there an evening activity you can all get involved in?
– Workplace wellbeing training
HEH Mind want to ensure that mental health problems are not a barrier to someone having a productive and fulfilling work life. We also want to ensure that everyone working across Hampshire has support for their mental wellbeing. Employers are increasingly recognising the need for mental health training for their teams. So why not find out more? We can help you through our range of courses which include Mental Health Awareness, Mental Health First Aid and Line Manager Training.
– Looking after your own wellbeing
During World Wellbeing Week and Mental Health Awareness Day we suggested various ways to help maintain your wellbeing including gardening, crafting, getting active, board games, and mindfulness. Maybe try to create your own A-Z of wellbeing activities?
You can find out more about stress and how to manage stress via the Mind website – https://www.mind.org.uk/information-support/types-of-mental-health-problems/stress/what-is-stress/
If you are struggling and are not sure where to turn for help, please visit our wellbeing service and Safe Haven pages. 
Posted on: 3rd November 2021