Portsmouth Football Club and HEHMind
On Saturday 15th February Portsmouth Football Club launch their partnership with Havant and East Hants Mind, as part of the English Football League and National Mind charity partnership.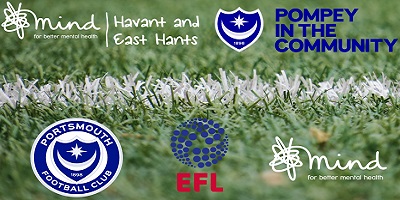 Havant and East Hants Mind, the nearest local Mind to Fratton Park, promote good mental health by supporting and empowering people to lead a full life as part of their local community. This is done through a range of services offered by our local Mind including: adult wellbeing, family wellbeing, children and young people's wellbeing and workplace wellbeing. HEH Mind also have a growing community team leading: volunteering opportunities, anti-stigma campaigning, along with fund and awareness raising activities.
We are delighted to be working with Portsmouth FC as part of the EFL's collaboration with charity partner National Mind. This opportunity will ensure Portsmouth FC and HEH Mind work together to enhance and improve the way football, sport and society approaches mental health and will increase awareness and understanding amongst fans, club members and staff alike.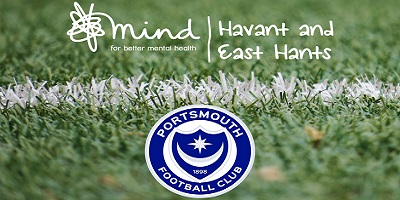 Havant and East Hants Mind will be at Fratton Park on Saturday 15th February to join National Mind, the English Football League and Portsmouth Football Club in raising awareness among fans about mental health and the local support available. Alongside this HEH Mind will be raising vital funds to tackle mental health problems.  
National Mind and the English Football League are working together with a network of 72 clubs and community trusts to promote National and local Minds messages and services to our combined millions of supporters and members, to help bring a lasting legacy around mental health in football.
The charity match day on 15th February will include:
A bucket collection before the match to support vital local mental health services provided by Pompey's local Mind branch, Havant and East Hants Mind.
Information about mental health and Mind throughout the ground and in the match day programme alongside · An awareness-raising video being played on the big screen 
Announcements about the day over the tannoy
National Mind's own research shows that over half of people (56 per cent) feel that football fans find it easier to show their emotions at football matches than at any other time. Despite this the charity also knows that many fans, particularly men, are likely to be struggling in silence for fear of opening up about their mental health. Mind hopes mental health-themed match days like this will begin to open up the conversation among football fans about their mental health as well as raising awareness about the support Mind offers.
National Mind's Partnership with the EFL launched at the start of the 2018/19 season and runs for two years. It aims to:
raise awareness about mental health with fans, clubs and staff
raise funds to deliver life-changing support
help improve the approach to mental health in football working with other partners in the game.
Paul Farmer, Chief Executive of Mind, said: "Every year, one in four of us will experience a mental health problem. That could be one person in every family, hundreds of football players and many thousands of football fans. Our research suggests that while football fans, particularly men, are comfortable showing their emotions at football matches, many feel unable to reach out for support when they need it. We are proud to be working in partnership with all 72 clubs in the EFL, as part of our charity partnership with them, to be real game-changers in the way football tackles mental health. We hope that events like our match day with Portsmouth Football Club will reach out to fans and let them know that whoever you support, Mind supports you."
HEH Mind looks forward to working with Portsmouth Football Club in the future and hope our supporters will join us in sharing information about their projects and campaigns.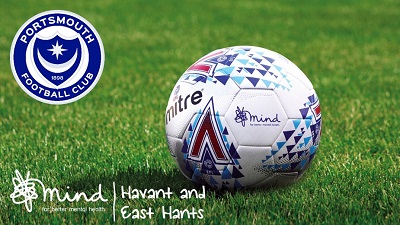 If you would like to get involved and support HEH Mind you can visit their website or social media (@HEH_Mind) to find out more.
For more information about Mind's partnership with the EFL and wider work in football visit mind.org.uk/football
Posted on: 12th February 2020