New Fundraising Lead Joins HEH Mind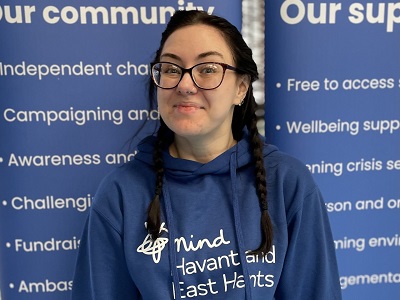 In March 2023 Emma Strong joined HEH Mind as the new Fundraising Lead. Emma is currently completing her induction and is excited to get started in April. Emma's role will focus on building HEH Mind's fundraising offer, supporting individual fundraisers and establishing new Charity of the Year Partnerships.
Since graduating from university with a History and International Degree, Emma has worked in project management, fundraising and events, across the corporate and charity sector.
For the past three years Emma has been working in International Development, with a focus on Sub-Sahara Africa, whilst studying for her Level 2 and 3 in counselling and therapy skills. This sparked an interest in mental health, and a desire to work more locally as a fundraiser, supporting the local community and being part of the development of Hampshire's mental health services.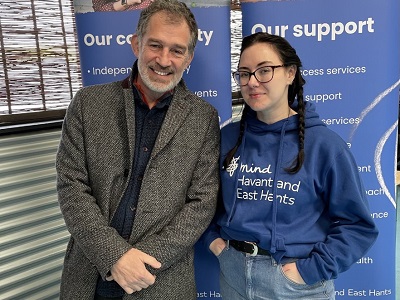 Emma is pictured with Richard Watts, chair of the HEH Mind trustees.
"I am delighted to be starting in this new role with HEH Mind at a time when workplaces across Hampshire will be considering and selecting new charities to partner with in the new 2023-24 financial year. To those workplaces I would say establishing a Charity of the Year Partnership with Havant and East Hants Mind can be a great way to: increase workplace connectedness, fulfil corporate and strategic priorities, collaborate with a trusted brand, in a local Mind and to support local free to access wellbeing and crisis services.
If that is something you or your workplace is interested in then please contact me. In my personal time I enjoy reading and going to spin classes, so any fundraising related to books or bikes, I'll be there." – Emma, Fundraising Lead, HEH Mind. 
When creating the new Fundraising Lead role HEH Mind worked collaboratively with the national Mind charity to develop the role and with Carrington West to promote the role when recruiting.  
If you would like to find out more about individual, group, workplace/ corporate fundraising please contact Emma on [email protected]  
Posted on: 28th March 2023