Men's Health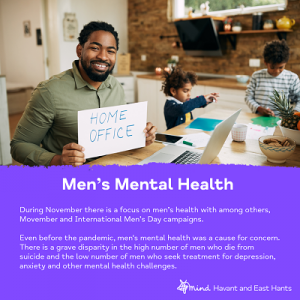 During November there is a focus on men's health with among others, Movember and International Men's Day campaigns.
Even before the pandemic, men's mental health was a cause for concern. There is a grave disparity in the high number of men who die from suicide and the low number of men who seek treatment for depression, anxiety and other mental health challenges.
This November we encourage our communities to:
– Promote positive male role models
– Focus on men's health and wellbeing; social, emotional, physical and spiritual
– Improve gender relations and promote gender equality and to create a safer, better world; where people can be safe and grow to reach their full potential
If you would like to find out more about our wellbeing support visit our wellbeing pages. 
Posted on: 19th November 2021