Leigh Park Mental Health support service relaunches with new opening hours
An urgent Mental Health support service has changed its opening hours to help those who need help in the evenings. The Adult Safe Haven in Leigh Park will now be open from 6pm until 10pm every evening. It offers over-18s a place to go in a mental health crisis and get support from clinicians, wellbeing practitioners and substance misuse staff.
The centre, run by Havant and East Hampshire Mind with clinicians from Southern Health NHS Foundation Trust, opened in January as a pilot scheme.
It was forced to close its doors in March due to the Covid-19 outbreak.
The team opened up a free phone line to carry on giving support during lockdown and have now reopened with the new hours for face-to-face support.
Adult service lead Francesca Blackburn said: 'This is such a great service because it means people can get that urgent help in the evenings if they need it.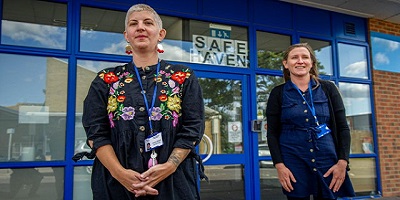 Pictured: Fran Blackburn, Adult services lead and Lucy Sykes, manager of Young persons Safe Haven outside the Wellbeing Centre in Leigh Park Picture: Habibur Rahman
They will get an assessment, can chat to who they need to and it may mean they can go back home after because everything has de-escalated and they are feeling less overwhelmed.
In the last six months we have had over 250 calls and drop in visits from people experiencing a crisis with their mental health or just needing someone to talk to, we have also seen a marked increase in anxiety and suicidal thoughts.
Before we had to close we had a slight difference in opening hours on bank holidays and weekends but we wanted to make it clearer and more consistent for people struggling with their mental health. We are here every single evening to help.
The centre is open 365 days a year at The Hub, the Havant and East Hants Mind Wellbeing Centre, at the junction of Dunsbury Way and Park Parade, Leigh Park.
Adults who need less urgent support can access the Mind wellbeing centre between 9am-4pm, Monday to Fridays. Anyone can refer themselves by attending the Safe Haven.
Posted on: 3rd October 2020