Holybourne Veterans FC donate to HEH Mind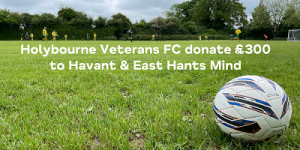 On Sunday 6th June Holybourne Veterans played a competitive final game of the season in Alton. Prior to the kick off, Holybourne, led by players James Robinson and Gary Magee presented HEH Mind with a cheque for £300.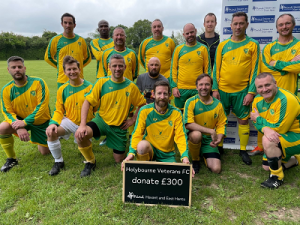 The donation had been raised through various club activities during 2021; and while this was the first time Holybourne had donated to HEH Mind, the club regularly raise and donate funds to a range of local charities.
James and Gary expressed that during the covid pandemic the club wanted to support local mental health and wellbeing services, stating "we managed to raise £300 to donate to our local Mind, we are really pleased with that and hopefully it will be a small help".
Mike Lock, Head of Communications and Community Engagement at HEH Mind added "HEH Mind would like to thank every player, club member and supporter at Holybourne Veterans FC for their donation and for their desire to support our wellbeing provision in East Hampshire."
There is information about HEH Mind, our wellbeing and crisis services at easthantsmind.org. Additional information about fundraising and other ways to support HEH Mind across Hampshire can also be found on our website. 
Posted on: 14th June 2021