HEH Mind launch Safe Haven for young people
Havant and East Hants Mind are excited to share with you that we are launching a "Safe Haven" for young people aged 11 to 17 within Havant Borough.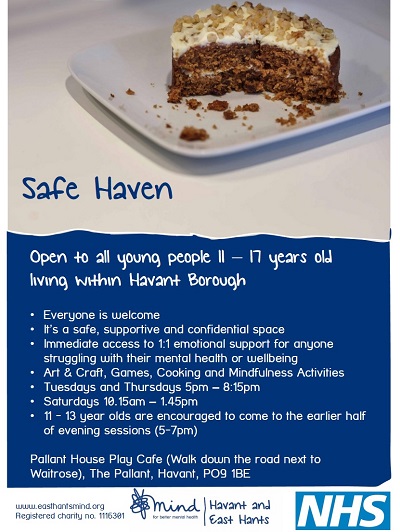 The Safe Haven will provide a safe & confidential space for young people experiencing difficultly with their mental health or wellbeing. The service will open Tuesday the 30th of April 2019 – for full details of opening times and venue – please refer to our poster.
Maria Morrell (Director of Services), from HEH Mind has said "We are really excited to be launching the Havant Safe Haven and would like to thank Hampshire and Isle of Wight CCG for funding and supporting this service.
We are passionate about working with young people to promote better mental health, reduce stigma and discrimination and prevent mental health difficulties developing into severe and enduring health issues.
We will be working in close partnership with schools, colleges, GPs, CAMHs and other key services to promote the service and together bring about better mental health for young people in Havant".
Posted on: 16th April 2019