Hampshire & IOW Children and Young People Crisis Line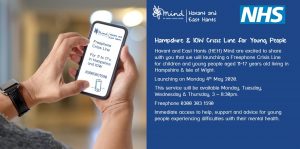 Havant and East Hants (HEH) Mind are excited to share with you that we will be launching a Freephone Crisis Line for 11-17 year olds living in Hampshire & Isle of Wight.
The crisis line provides immediate access to safe and confidential support for young people experiencing difficulty with their mental health.
The service will open Monday 4th May 2020, and be available on Monday, Tuesday, Wednesday & Thursday 3pm – 8:30pm. Freephone: 0300 303 1590.
Danielle Barnes, Children & Young People's Service Manager at HEH Mind has said "We are really excited to be launching the Hampshire & IOW CYP Crisis Line and would like to thank the Hampshire and IOW Partnership of CCGs and North East Hants and Farnham CCG for funding and supporting the service."
"We are passionate about providing an easily accessible, confidential service for young people to support them to de-escalate emotional crisis and promote positive mental health; to prevent mental health difficulties developing into severe and enduring health issues."
"We will be working in close partnership with schools, colleges, GPs, CAMHS and other key services to promote the service and together bring about positive mental health and wellbeing for young people in Hampshire & IOW".
Posted on: 29th April 2020