Fundraising Kevin Embarks on Epic Cycling Journey
 In a remarkable demonstration of dedication, Kevin, a window cleaner, radio personality and passionate advocate for mental health, is gearing up for an extraordinary fundraising endeavour. He will be cycling from the Fox & Hounds in Funtington to Brighton Pier and back, all in support of HEH Mind, a prominent mental health charity that offers a lifeline to those facing mental health and wellbeing challenges. 
With an inspiring spirit and a powerful mission, Kevin expressed, "We (Kevin and his son) are in no way experienced cyclists, so this will be a big challenge for us, a challenge that I hope will raise money and awareness for HEH Mind, which ensures people don't have to face mental health and wellbeing issues alone."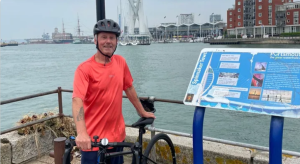 The community has rallied around Kevin's endeavour, and Cycle World Portsmouth Bike Shop has played a pivotal role in supporting his fundraising initiative. The bike shop is providing crucial equipment and has also created a special discount code to encourage more individuals to participate in Kevin's fundraising efforts.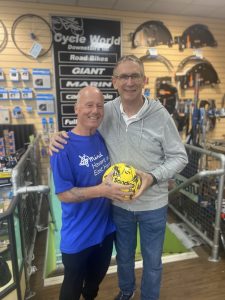 In an unexpected and amazing turn of events, legendary Portsmouth Football Club goalkeeper, Alan Knight MBE, paid a visit to Cycle World Portsmouth Bike Shop in September. There, he met with Kevin and Emma, the HEH Mind Fundraising Lead, to learn more about Kevin's upcoming cycling challenge. Alan also offered his support by providing an autographed football from the latest Pompey squad, which will be up for grabs in a special donation campaign.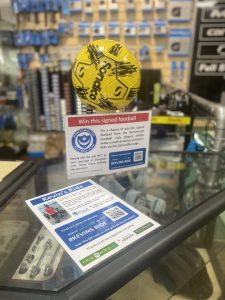 To make this fundraising effort even more engaging, supporters have the chance to win the autographed football by making a donation, no matter how big or small, using the GoFundMe link provided below. To ensure participation, add 'PFC' to your name and include an accompanying message when making your donation. 
For those eager to learn more about Kevin's inspiring journey and lend a helping hand to HEH Mind, please visit the GoFundMe page at: https://gofund.me/03c86898. 
This heart warming endeavour promises to make a significant impact in raising both funds and awareness for HEH Mind. Kevin's resilience in embarking on this cycling challenge is a testament to the power of the community coming together to support a worthy cause. With the added support of Cycle World Portsmouth Bike Shop and Alan Knight MBE, this initiative is set to make a lasting difference in the lives of individuals facing mental health challenges.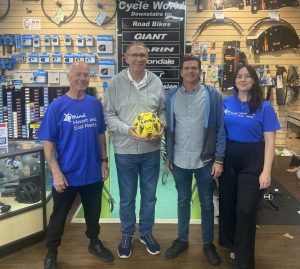 Find out more and donate to Kevin's fundraiser: 
For media inquiries and further information, please contact: 
Mike Craft 
Head of Communications & Community, HEH Mind 
For fundraising inquiries and further information, please contact: 
Emma Strong 
Fundraising Lead 
For information about HEH Mind, free to access wellbeing and crisis services: 
Posted on: 2nd October 2023