Exclusive Networks host successful football fundraiser
On 26th May, Exclusive Networks hosted their annual football fundraiser event. Having established the annual event in 2016, this was the first time hosting the event since 2019 due to the pandemic. Donations raised through the event have led to a huge fundraising total of £39,000 for the local mental health charity Havant and East Hants Mind, who are part of the federation of local Minds across England and Wales.
In March 2022, Exclusive Networks announced HEH Mind as their Charity of the Year for 2022. Since that time, the local Mind has provided communications and signposting support for the business based in Alton, Hampshire. Their discussions included fundraising events and activities, which could aid increased awareness of services and support, and provide confidence and an opportunity to talk with staff from HEH Mind about mental health and wellbeing in a relaxed and casual environment.
Exclusive Networks drew on their expertise to bring together individuals and workplaces in a positive engaged way. Workplaces paid registration fees and entered their teams, along with engaging Sky Sports style video introductions to their players on social media.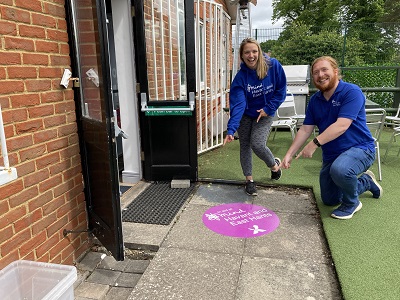 On the day Mike Craft and Lorna Howes from Havant and East Hants Mind, introduced local Minds, their work and specifically the services at HEH Mind. Mike also mentioned how the funds raised would support provision in Hampshire with around £3,000 being equivalent to the cost of delivering a 6-week wellbeing or symptom workshop for 10 people. In addition, encouraging attendees to signpost and support their local Minds. Lorna then took the lead hosting a 5-minute warm up for all players, preparing them for the physical activity ahead. As the warm up finished Lorna invited attendees to chat with herself or Mike during the day or to pick up some wellbeing information from the Mind display inside the clubhouse. 
The Charity Football Event hosted 35 teams and over 175 players from across the UK. Each team representing a vendor or a partner in the Exclusive Network channel eco-system. Along with a couple of Exclusive Networks teams to provide opportunities for their own staff to participate as well.
"This year we kicked off in support of Mind Havant and East Hants. A charity close to our ethos and one chosen by our UK employees as our charity to support for 2022. Therefore it's a delight to confirm our 2022 Football event raised £39,000 in total. Thank you to everyone who supported this year's event and helped make it happen. We'd also like to give a big thank you to Alton FC for hosting us this year. It was a privilege to host this event in the home town of our UK HQ. It's events like this that makes us who we are at Exclusive Networks, we believe in the IT Channel community." Laura Jackson, Exclusive Networks.
"An absolutely amazing fundraising total and event was made possible by the great team at Exclusive Networks and by everyone that was part of the day. A huge thank you to everyone that played, cheered, officiated and supported. It was a pleasure to be there on the day, to talk to some of you, to enjoy the sporting achievements and to see a community come together. Thank you for your support for mental health, for supporting our wellbeing and crisis services and for getting involved in the 2022 Charity Football Tournament." Mike Craft, HEH Mind.
If you would like to find out more about fundraising or becoming a Charity of the Year Partner please contact Mike and Lorna by emailing [email protected]
Posted on: 28th June 2022