Cycling Fundraiser at Tesco Havant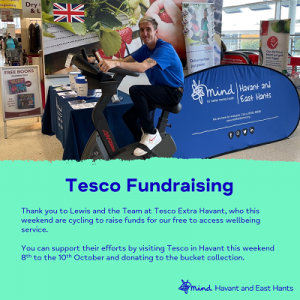 On 8th, 9th and 10th October, the weekend of World Mental Health Day, the staff at Tesco Extra in Havant, led by Lewis completed an instore continuous cycle to raise funds for our free to access wellbeing service and for World Mental Health Day.
The Team raised an amazing £529.81 from customer donations over the weekend of World Mental Health Day. The donation raised will help fund the mental health services delivered by HEH Mind in local communities. 
HEH Mind will be back in store on Friday 10th November collecting donations to support wellbeing service during the winter. If you have service questions or just want to say hi visit Tesco Havant on 10th December. 
Posted on: 22nd October 2021