Cup Finals with Hampshire FA
In April, the football season began its conclusion to the 2021 – 2022 season, with teams playing their final games battling for finishing positions and silverware.
Cup Finals provide an opportunity for teams to end their season on a high, if they are lucky enough to win that final game. They also provide another opportunity; to promote and support local charities, causes, projects and partners.
Havant and East Hants Mind were delighted to be invited to share three of those special Cup Final moments.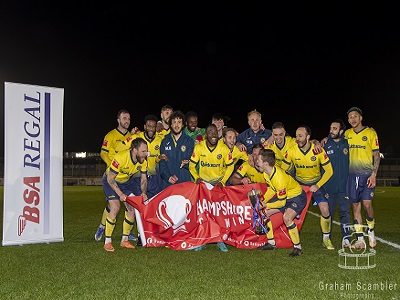 The Silverlake Stadium in Eastleigh played host to two Cup Finals April. The Men's Senior Cup Final and the Women's Senior Cup Final. Both opportunities provided the chance for HEH Mind's Community Team to meet with Hampshire FA staff and with other partners to hear more about the work they are doing and the impact their projects are having on our local communities in Hampshire.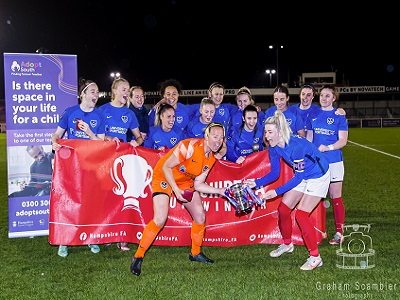 Of course, there was also the benefit of watching four great teams competing for their respective trophies. There was even a penalty shoot out to decide the Men's Final.
Congratulations to all four final teams: Portsmouth Women and AFC Bournemouth Women, Farnborough FC (Men) and Eastleigh FC (Men).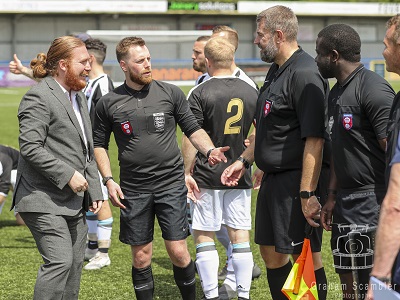 The third final attended by Havant and East Hants Mind in May was hosted at West Leigh Park in Havant, with men's teams Gosham Rangers taking on Barleycorn. The Sunday Vase Final provided added opportunities for Havant and East Hants Mind as the match-day ball sponsor. Mike Craft (Head of Communications and Community Engagement, HEH Mind) was welcomed onto the pitch and introduced to the teams before the game, selected the man of the match award and presented the cup to the winning team.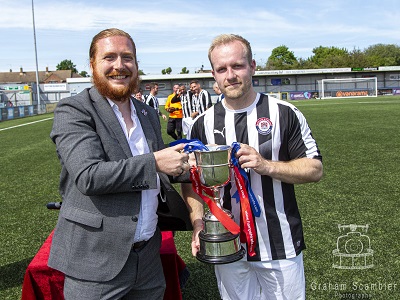 These opportunities helped to raise the profile and awareness of Havant and East Hants Mind with those in attendance, from Gosport, Barleycorn and with local Havant residence visiting the stadium.
Attending the Cup Finals, particularly the additional opportunities we had at West Leigh Park, a stadium very close to HEH Mind's Wellbeing Centre and Safe Havens, was a huge privilege and a positive opportunity to celebrate the Charity Partnership between Havant and East Hants Mind and Hampshire FA.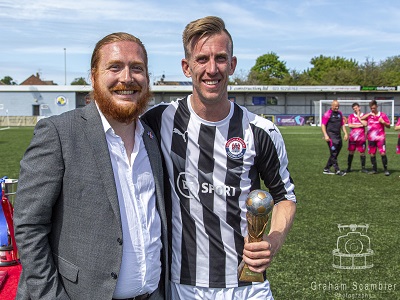 Havant and East Hants Mind are looking forward to continuing to collaborate with Hampshire FA in the future.
Our thanks go to Graham for providing photos of the Cup Finals. More images and information about Graham can be found on his website.
Posted on: 1st July 2022