Charity of the Year Partnership Success
At the start of 2020, De'Longhi Kenwood began the process of selecting their new Charity of the Year, with employees nominating local charities. The Give Something Back Team then shortlisted three charities and the employees voted to decide who the Charity of the Year would be, with HEH Mind being selected. In partnership with their local Mind De'Longhi Kenwood began planning fundraising and staff engagement activities for 2020. Unfortunately, many of those plans soon became impossible to host and facilitate with pandemic related social restrictions and lockdowns throughout 2020.
As the pandemic worsened, Kenwood recognised there was an increasing degree of worry and concern amongst employees, many of whom were now working from home, for a whole variety of reasons, including concerns for their health and that of their loved ones. "As new government measures were introduced,  especially quarantine and its effects on employee's usual activities, routines or livelihoods,  we wanted to ensure our employees had coping mechanisms to deal with  the increased levels of anxiety, stress and loneliness caused by the lack of personal interactions. How fortunate we were to be able to draw upon the resources HEH Mind had signposted us to and we shared of these with our employees." Helen Feeney, De'Longhi Kenwood. 
Kenwood staff were keen to continue to fundraise for HEH Mind, particularly at a time when fundraising was down across the globe. Staff thought of new virtual ways of fundraising by hosting virtual quizzes and competitions.
The first new activity was the #KenwoodCarePackage. The Kenwood brand social media post about this activity read, "Through some strange and difficult times, we have been overjoyed at your posts about helping the community and Kenwood would like to help even further. Get baking, help your neighbours or those in a vulnerable position and share with us to make a real difference. For every #KenwoodCarePackage tag we receive, Kenwood will give £1 to our Charity of the Year Havant & East Hampshire Mind, helping those with mental health issues. We will post ideas and recipes over the coming days to inspire you all." Kenwood shared this message on the 27th March 2020 and hosted the #KenwoodCarePackage during April.
With the digital focus during 2020, and many people working remotely De'Longhi Kenwood provided physical space and computer equipment for HEH Mind staff to host their first ever online Supporters Conference; where Mental Health First Aiders, Community Champions, Sports Mental Health Ambassadors and Fundraisers came together to share experiences, insights and best practice.
At this time, De'Longhi Kenwood very kindly offered to extend their support and charity of the year partnership for an additional year with HEH Mind, allowing a longer period of donations and support for the mental health charity.
Throughout 2020 and 2021 staff engaged in a range of fundraising activities including Zoe and Sarah's head shaves in April 2021 and over 30 members of staff taking on the London to Brighton 55 mile Bike Ride in September 2021.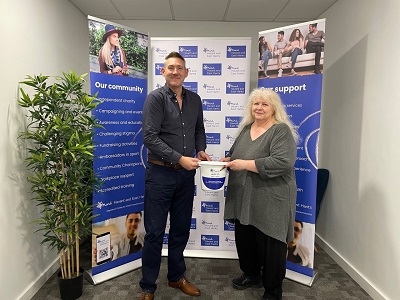 During 2020 and 2021 De'Longhi Kenwood shone a spotlight on mental health and the value of collaborating with local charity partners. HEH Mind are hugely thankful to De'Longhi Kenwood for their support and fundraising over the last two years. In April 2022 the Charity of the Year partnership ended, with De'Longhi Kenwood having supported an uncountable number of conversations and supporting signposting to services. During that time, De'Longhi Kenwood raised £15,591 for HEH Mind.
The fundraising donated will support HEH Mind to continue to deliver their free to access wellbeing and crisis services, which you can find out more about by visiting their website easthantsmind.org
"De'Longhi Kenwood have been an amazing charity of the year partner; having supported us over an extended period. A huge thank you to everyone that has shared their personal insights as part of our partnership and to everyone that has been part of the fundraising activities. Particularly to Zoe and Sarah and all the London to Brighton Bike Riders. Thank you." Mike Craft, HEH Mind.
HEH Mind thank De'Longhi Kenwood for their support, adaptability, engagement, signposting and fundraising. HEH Mind looks forward to collaborating with De'Longhi Kenwood in the future when possible and to utilising their excellent example to other potential future Charity of the Year partners.
Find out more about HEH Mind services and support visit www.easthantsmind.org
To find out more about fundraising or becoming a Charity of the Year Partner please contact [email protected]
Posted on: 21st June 2022