Bluebird Care to raise vital funds for HEH Mind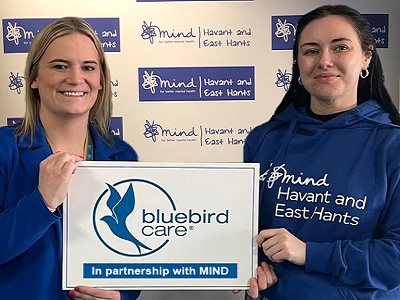 Bluebird Care Alton, Petersfield & Havant has announced that Havant and East Hampshire Mind will be their charity of the year as they strive to promote good mental health in the local area.
Bluebird Care, who are rated outstanding by the Care Quality Commission (CQC), have planned a community fundraising programme where they will generate important funds for Mind's mental health support services, with the aim to empower people to lead a full life as part of their local community.
Mental health illness currently affects 1 in 4 people in the UK*, and suicide is currently the biggest killer of people under 35 years old**. Bluebird Care want to support their local community by working in partnership with Mind to raise awareness of mental health and the local services that are available from the charity.
Norman Murphy, Managing Director of Bluebird Care Alton, Petersfield & Havant, said: "There are a wide variety of factors that can have huge impacts on people's mental health, and Bluebird Care are determined to make a positive difference. Our partnership with Mind will have an extremely positive effect on many people's lives, and we can't wait to get started."
Emma Strong, Fundraising Lead HEH Mind said: "Thank you to everyone at Bluebird Care for naming HEH Mind as their charity of the year. The funds raised will support the continued delivery of our free-to-access wellbeing services. We are grateful to Bluebird Care for their support in increasing awareness of our wellbeing services."
* – Statistic from National Mind report
** – Statistic from Samaritans report
Find out more about Bluebird Care
Find out more about HEH Mind
Posted on: 9th May 2023