Bluebird Care Takes Part in Hayling Billy 5 Mile Run
Supporting HEH Mind Fundraising Efforts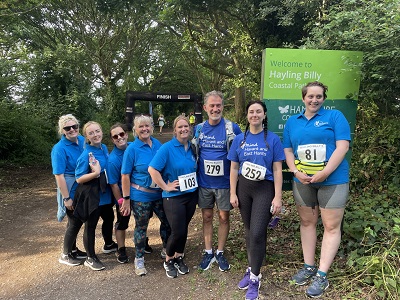 Bluebird Care Alton, Petersfield & Havant, an outstanding CQC rated home care provider, proudly participated in the annual Hayling Billy 5 Mile Run hosted by the Victory Running Club. The event took place on Wednesday 21st June and saw a remarkable display of community spirit and charitable giving. The Bluebird Care Team put in maximum effort to support their fundraising for HEH Mind, their Charity of the Year.
The Hayling Billy 5 Mile Run, known for its scenic route along the beautiful Hayling Island, has become a prominent fixture in the local running calendar. The event brings together runners of all abilities, from seasoned athletes to enthusiastic beginners, who come together to enjoy a day of fitness and camaraderie. 
The team demonstrated their determination and enthusiasm, crossing the finish line with smiles of accomplishment. In addition to their physical efforts, Bluebird Care took an active role in fundraising for HEH Mind, rallying support from colleagues and the wider community to contribute to this worthy cause.
"We are immensely proud to have taken part in the Hayling Billy 5 Mile Run and contribute to the incredible fundraising efforts for HEH Mind," said Emma Gregory, Customer Care Manager at Bluebird Care Alton, Petersfield & Havant. "This event embodies our commitment to the wellbeing of the community, and we are thrilled to have made a positive impact on such an important cause. We extend our heartfelt gratitude to everyone who supported us on this journey." 
HEH Mind and Bluebird Care extend their gratitude to Victory Running Club for organising this fantastic event and providing a platform for community engagement, wellbeing, and charitable giving. 
About Bluebird Care: Bluebird Care is an outstanding CQC rated provider of home care services, committed to delivering high-quality care to individuals within their own homes. With a focus on promoting independence and supporting physical and mental wellbeing, Bluebird Care offers a range of personalised care services tailored to each client's unique needs. For more information about Bluebird Care, please visit https://www.bluebirdcare.co.uk/alton-petersfield-havant
Posted on: 6th July 2023