Adult's Wellbeing Service Update
We hope you are all keeping well at this time. Please see below the service update from our Adult Wellbeing Service Team.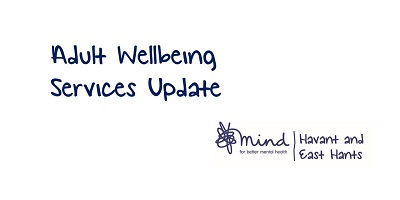 To prevent the spread of the COVID-19 virus and help keep our staff and service users well; groups, workshops, events and the drop Adult Wellbeing drop in service will be postponed during this time.
In place, we will be offering a telephone service, including check in calls for those that were due to attend. Assessments will also still go ahead. However, this will be completed via the telephone.
You can also contact the service on the same number, 02392498916
Monday – Thursday 9am to 4.30pm and Fridays 9am to 4pm
We understand that the current situation may cause a rise in mental health crisis whilst self isolation may mean you are unable to leave your home. To ensure our community is supported and kept safe, we have also moved the Adult Safe Haven Crisis Service to a phone service too. You can contact us by calling 07887 417255 Monday – Friday 6.30pm – 10.30pm and Weekends and Bank Holidays 1pm – 10.30pm
Posted on: 23rd March 2020