Host you own fundraising
Do you have a great idea to raise money for HEH Mind, or are you looking for fundraising inspiration? We have a few suggestions to support you in your fundraising journey, if you have your own ideas that's great too.   
We are constantly amazed by the inventive and inspiring ways our supporters fundraise for HEH Mind, from abseiling to zumbathons there's so many options. Whatever you are doing, wherever you are doing it, whatever amount you are aiming to raise, we are incredibly grateful to have you on our team. You'll be making a big difference and helping us to make sure nobody faces a mental health problem alone through the support we offer with our free to access wellbeing and crisis services.
Find out how to fundraise for HEH Mind and support mental health within Hampshire by contacting our Fundraising Team or reading the fundraising options below.  
In person fundraising
Bake sale
Cakes and biscuits can be a great way to involve more people in your fundraising. You could celebrate bakers achievements with awards like 'most creative'. 
Car wash
Whether at work or at home, there's likely more than a few cars near to you. Hosting this as a team can help to clean more cars, but also to keep the energy up throughout your activity. 
Dinner party
Bring your family and friends together for a dinner party and raise funds for HEH Mind. This could also be an opportunity to share information about local services and support. 
Quiz night
Bring your friends or colleagues together for a themed quiz and raise funds for HEH Mind. Picking a popular theme can help increase interest and lead to more people wanting to take part. Quizzes were big in 2021, add something to an in person quiz to make this a successful event.
Sponsored silence
Decide how long you're going to stay quiet and ask people to sponsor you. Maybe during your silence, you can draw attention to the stigma and missed conversations about mental health. 
easyfundraising
easyfundraising turns your everyday online shopping into free donations. Just start your online shopping first at easyfundraising.org, then shop as normal. The retailers will then make a small donation.
Game streaming
Online game streaming can be a great way to raise funds for HEH Mind, while playing your favourite games. Twitch, Mixer and YouTube are all useful tools/ platforms to share your gameplay with supporters and to encourage them to donate. 
This could be an individual or team challenge. 
Online gig
If you have a musical talent, take it online to a virtual gig through Facebook or Instagram live. Set up a giving page so that those who join your gig can make a donation. Listening to live music is also a great way for others to look after their wellbeing.
Online tutorials
Share your skills with others through online tutorials. You could hold a cooking/ foreign language/ flower arranging class. Ask for a donation in exchange for sharing your skills, which can be donated on your giving page.
Virtual ball
Socially distancing yourself but still want to connect with your friends? Enjoy yourselves at your own virtual ball and support HEH Mind by donating your Ball Ticket profits.
Virtual book club
Take your book club online or set up your own new online club. Donate the money that you would have spent on drinks and snacks to HEH Mind.
Virtual Crafternoon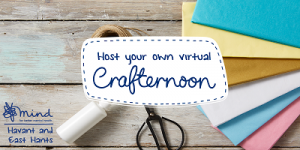 To look after our wellbeing, there are lots of activities we can do without going out that are fun and help us feel good – including crafting!
That's why we're inviting you to host a Virtual Crafternoon at home. All you need to do is download our step-by-step guide which will tell you everything you need to know. Click here to get the guide.
Get together online with your favourite people and spend an afternoon doing some crafting.
Set up a fundraising page online and ask your guests to make a donation to HEH Mind to take part. Enjoy a get together with a difference and help make sure no one in our local communities has to face a mental health problem alone. 
If you have any questions, please send us an email at [email protected] 
Virtual physical activity
Lead an online class through Facebook or Instagram live. It could be yoga, aerobics or mindfulness. Set up a giving page and ask for a donation to HEH Mind for friends to attend.
Virtual pub quiz
Use Skype, FaceTime or Google Hangouts to hold a virtual pub quiz. Set up an on line donation page and ask your guests to make a donation to take part.
7k in 7 days
Take on a 7k in 7 days challenge to help you build exercise into your new daily routine. Start the day with a jog around the living room or dance around the kitchen making lunch.
Celebration giving
Giving through your celebration is a great way to support us and to help make more people aware of our charity. Whether you are getting married, celebrating a birthday or commemorating an anniversary, we would love to be part of your special occasion.
Donations in lieu of gifts

Ask your friends to make a donation to HEH Mind instead of wedding or birthday gifts. How many socks and toasters do you really need?
You can do this by setting up an online fundraising page and include the link to this in your invitations.
Don't forget to let us know about your celebrations.
Party Time

If you are having a reception, birthday party or celebration, you can easily add some extra touches.
• Use HEH Mind coloured balloons (blue, yellow, purple).
• Ask us for some collection tins. These are great for placing next to a bar or buffet for loose change.
• Raise some extra money by asking people to guess the weight of the cake, the winner receives a small prize. Just remember to weigh the cake before you eat it.
Joining an event?
If you are looking for something different, have you considered taking part in an organised public event? Events such as Great South Run, London to Brighton Bike Ride, London Marathon or a trek aboard can be a great way to fundraise while also undertaking a personal challenge.
For these public events you will need to pay for and book your own place on an event. Once your place is booked, we can support with setting up a fundraising page or providing you with sponsorship forms. 
Contact us
Whatever you are planning let us know. We can share your efforts across our social media platforms and e-newsletter. Along with providing relevant resources and support. Contact us by emailing [email protected]