Suicide Postvention and Prevention (in the workplace)
Free online resources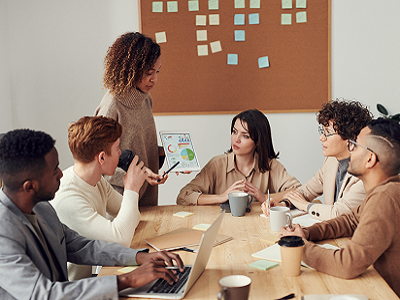 Havant and East Hants Mind have designed and developed a programme of support and activities, in partnership with Hampshire, Portsmouth, Southampton and Isle of Wight Public Health. We aim to encourage and support employers and employees to raise awareness about suicide prevention and create opportunities for early intervention.
Poor mental health costs UK employers up to £56 billion each year (2021), compared to £45billion in 2019. (Deliotte April 22)
A 2021 survey by Mind of over 40,000 staff working across 114 organisations taking part in a Workplace Wellbeing Index revealed that two in five (41 per cent) employees said their mental health had worsened during the pandemic (Deloitte April 22)
Over 700,000 people take their own life each year – that's one person every 40 seconds (World Health Organization) 
115 people die by suicide in the UK every week – with 75% of those deaths being male (ONS)
It is important that we:
Reduce the stigma around mental health in the workplace and promote help seeking behaviour
Increase awareness of the support and opportunities available, specifically within high-risk industries
Increase the number of suicide prevention conversations at work
Embed suicide prevention within company culture and offer suggestions in achieving this
Promote the use of tools and resources to help maintain good emotional wellbeing within the workplace
Individual Suicide Safety Plans
A safety plan encompasses strategies and support systems (for an individual) which can be used during a crisis. It may involve techniques to distract oneself from overwhelming thoughts of suicide, methods to which create a safer immediate environment or situation, contacts to reach out to during difficult times, and actions to take in emergency situations.

The links below offer three different safety plans all allowing a stepped approach for an individual, designed to address various levels of ideation and to keep yourself safe.
Hopeline UK have developed a suicide safety plan. Hopeline safety plan
A safety plan overview to which an individual can complete as their own individual plan of action. Every life matters safety plan
A safety plan template produced by Papyrus.  Papyrus Safety plan
Wellness Action Plans
Wellness Actions Plans (WAPs) offer a simple and practical approach to supporting individuals' mental health at work. WAPs can help you create a supportive environment for all workplace staff. By working on a WAP and sharing this with a line manager/colleague it enables practical steps to be shared to ensure support is there when someone is not feeling their best.

At Havant and East Hants Mind every staff member will complete a WAP with their line manager and we also promote this tool across all of the workplaces we work with. Wellness Action Plan
Guidance documents
Suicide Prevention Training
Podcasts
Videos
Other Support Services
The Lighthouse Construction Industry Charity – provides emotional, physical and financial wellbeing support to the construction communities and their families.  Lighthouse Construction Industry Support
Mates in Mind – a leading UK charity is raising awareness and addressing the stigma of poor mental health. They promote and lead on the development of positive mental wellbeing within the workplace, working across industries, focusing on construction, as well as related sectors including transport, logistics, manufacturing, and others. Mates in Mind
SOM – Supporting Occupational Health and wellbeing Professionals – a postvention framework for responding to suicide in primary care. Postvention framework example
Useful Apps
HSE health and safety app – features wider information on practical risk, management tools, videos and health and safety toolbox. HSE H&S App

Hub of Hope – Mental health support database. Hub of Hope App