Business supporting HEH Mind
Havant and East Hampshire Mind believes that relationships with our local businesses should be mutually beneficial. It is important to us that our corporate partnerships are not a one-way street, where companies give and we take. We aim to have as big an impact on the companies we work with as they have on us as a charity.
Mental health is increasingly on the public agenda. By working with Havant and East Hants Mind, an affiliate of 'Mind' the leading mental health charity in England and Wales, you will demonstrate to your customers, staff and suppliers that your company takes mental health seriously.
We want to help you inspire and increase customer and staff engagement through our awareness raising campaigns, staff and customer fundraising, sponsorship opportunities and our bespoke workplace mental health training packages.
We have partnered with a number of business in many innovative and creative ways. In some cases Businesses have made us their Charity of the Year, Charity Link Partner or committed to purchasing our workplace training and services. These approaches all deliver multiple benefits and added value.
Charities of the Year
Charity of the Year (COTY) is a partnership between a business and a charity of their choice, hopefully HEH Mind. This partnership can support both the business and the charity. To enquire or establish a Charity of the Year relationship you do not have to be a large company or even a corporate company; societies and clubs can also make us their Charity of the Year. Additionally, a Charity of the Year partnership can last one year or more, depending on the arrangement between the business and charity. 
Establishing an official Charity of the Year partnership not only helps businesses and groups to meet corporate and social responsibility goals, but can also boost staff morale. Resulting in staff/ team commitment and support growing, with the knowledge of who and how their hard work contributes. Providing a sense, they are part of something beyond the office/ workplace/ group setting.
For some workplaces/ groups the Charity of the Year partnership will involve a range of fundraising activities and actively signposting to their partnered charity. For others their relationship may include a commitment to purchasing training or resources (such as workplace wellbeing and policy support). 
To find out more about HEH Mind, please visit our workplace wellbeing, training or fundraising pages. You can also contact us directly by emailing [email protected]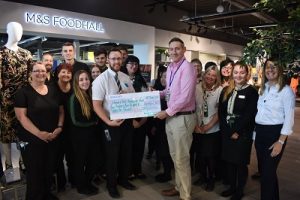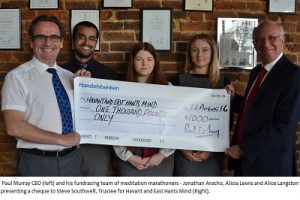 Previous examples of a Charity of the Year partnership include Marks & Spencer (Havant) and Paul Murray Investments.
Link partnership to a commitment to purchasing in workplace wellbeing services and training. See our workplace wellbeing and training pages for more information about the support available. 
In kind support
The Vine Medical Group offer us free space for our clinics in return for some of our services, training or sharing skills. Do you have space or services you could offer HEH Mind or our users?
Celebrating our partnership success with the public via a range of media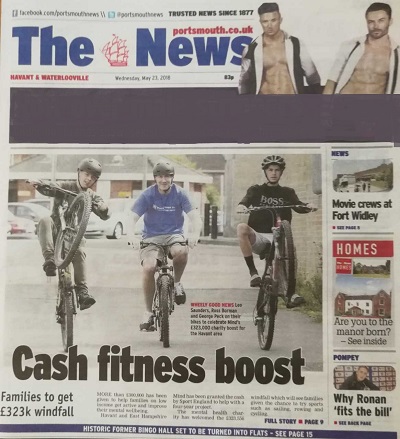 We have experience in getting good local and national positive coverage (below – Successful funding application to support our family wellbeing and health projects). Additionally we utilise a variety of social media, events and our community locations to reach 1000s of local people.
Sponsorship opportunities
More people turn to 'Mind' than any other mental health charity and Mind's profile is growing at an amazing rate. More organisations want to publicly demonstrate their support for mental health and for local services. Working with Havant and East Hants Mind provides that opportunity.
As an affiliate charity with Mind, we share branding, policies, procedures and projects. We have nationally recognised branding with local knowledge, support and services.
Cause-related marketing: Sponsorship
This year's local Hampshire campaigns – late 2018/19 include:
Suicide Prevention and awareness – as the single largest cause of preventable death in Hampshire.
Young people's mental health – Young people with poor mental health are lonelier, often isolated and have far worse outcomes than their peers, affecting the whole of their lives.
If your business is passionate about young people's futures or suicide prevention campaigns and want to sponsor our campaigns talk to us now
Sponsorship opportunities related to brand
There are a wide choice of sponsorship opportunities to gain the benefits of associating with Mind such as enhanced corporate image, which will show your customers and staff that your organisation cares about mental health. We have a number of services and projects relevant to a range of brands and businesses.
Some examples include
Our family sports/physical activity programme. This has already received local and national press coverage. We need sports and physical activity providers or family orientated businesses to sponsor the planned family's programme and awards trophies. Branding can be on all our project resources, press coverage and at the well covered awards event.
Our children and young people services in Havant and in East Hampshire will be celebrated as delivering a response to huge unmet need in the area. The funds we attract to cover the cost of staff and venues from sponsorships will demonstrate the impact two powerful brands (yours and ours) can make when tackling this local and national challenge.
Our outdoor green spaces activities and environmental projects are seeking branding partnership. We will create numerous opportunities to celebrate corporate sponsorship with businesses that are aligned with our ethos and the evidence base of promoting the green/blue (coastal) environment for improved wellbeing and mental health.
In addition to any of the above approaches you can also:
Train up HEH Mind Ambassadors for the workplace
These staff (acting as volunteers for HEH Mind) provide an ongoing link between HEH Mind and the business. They link in with our campaigns and fundraising activity, as well as raising awareness and promoting good mental health amongst peers. Ask us about Ambassadors for your workplace here.
If you are interested in a corporate partnership with us, please do not hesitate to contact us on 02392 498916 (ask for the Corporate Partnership lead, Ross Borman) or email us at [email protected]